Product Information
NEO-690Z / NEO-890Z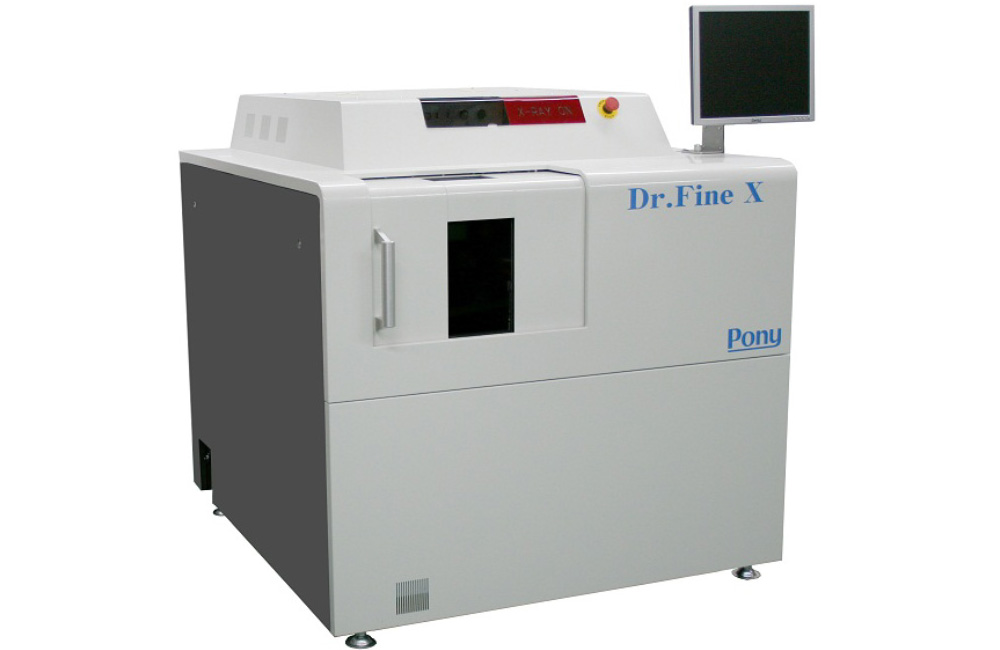 Off-line Microfocus X-ray Inspection System equipped with PONY ORIGINAL Direct Conversion X-ray Camera; SID-A50. Suitable for inspection of BGA, CSP, and LGA on PCB.
Inquiries
Outline
Off-line X-ray Inspection system for analytical to 100% inspection.
Equipped with PONY ORIGINAL Direct Conversion X-ray Camera "SID-A50", made stable inspection possible with low maintenance cost.
X-ray Camera inclines 50 degrees to check samples from oblique view.
M-size board model - "NEO-690Z" and L-size board model - "NEO-890Z".
Can be upgraded with; Automatic X-ray Inspection function, CT function, 1-axis or 3-axis rotator (OPTIONAL)
2 windows (top and front) for checking inspection coordinates. (both standing / sitting inspection possible)
Other custom specification available.
Specifications
NEO-690Z
NEO-890Z
Max. Vol. / Max. Cur. (Max. Output)
90kV / 0.25mA (10W)
Min. Focus Size
5um
X-ray Camera
PONY ORIGINALDirect Conversion X-ray Camera SID-A50
Geometrical Magnification (FOV in mm)
Min. GM: approx. X1.76 (29.2 X 26.4)
to Max. GM: approx. X35 (1.47 X 1.32)
Magnification on Monitor (Monitor Size)
approx. X9.3 to X184 (17in. with resolution of 1024 X1280)
Oblique View
approx. 50 deg. (Camera alone inclinates for max. magnification)
Geometrical Magnification during Oblique View (FOV in mm)
Min. GM: approx. X3.1 (16.6 X 15.0)
to Max. GM: approx. X28 (1.83 X 1.66)
Magnification on Monitor during Oblique View (Monitor Size)
approx. X16.3 to X148 (17in. with resolution of 1024 X1280)
Table Size
350mm X 400mm
510mm X 560mm
X-Y Axis Stroke
300mm X 350mm
460mm X 510mm
Z Axis Stroke
220mm
Table Load Capacity
5kg
External Dimensions (mm)
W930 X D1104 X H1320
W1250 X D1424 X H1320
Weight
approx. 700kg
approx. 1,000kg
X-ray Leakage (at machine surface)
less than 1uSv/hr
Power
AC50/60Hz 100V 15A
Option

Automatic X-ray Inspection (AXI) Function,
CT Function (Sample Size (mm): at Min. Mag. [32.4 X 29.2] to at Max. Mag. [4.8 X 4.3],
100kV X-ray Generator,
1-axis Rotator
3-axis Rotator
System is equipped with interlock mechanism to protect the operators and engineers from unintended irradiation.
Specifications above can be changed without prior notice.
When the system is exported to foreign countries, Japanese Government may require exporting license.
System specifications; including configuration, X-ray generator, X-ray camera, and shielding box may be upgraded upon request.
PIA-Soft is a trademark of PONY INDUSTRY CO.,LTD. All other products are trademarks and registered trademarks of their respective owners.
Option
Automatic X-ray Inspection Function

Nowadays, more and more devices are mounted on PCB surface, like BGA and CSP. This trend is causing testable areas with AOI limited.
Furthermore, PCB for automobile industry is under severe demand for total inspection. However, the combination of existing X-ray generator and X-ray detector cannot possibly produce stable and repeatable images. This is a fatal problem for X-ray inspection systems, and made it almost impossible to be used automatically.
For an example, think of an AOI system; equipped with fluorescent light bulb with inverter-less power supply for the light source, and camera with terrible sensitivity and contrast degradation, which also gets images burned on easily. With such a system, no matter how incredible the software you equip it with, it would not earn the title of an "Automatic Inspection System". This is exactly what ordinary "Automatic X-ray Inspection" on the market IS.
This simple FACT should have been crystal clear to those who knew enough about X-rays. Nevertheless, there have been way too many inspection system manufacturers who tried creating an automatic X-ray inspection system, without considering that essential factor, and disintegrated into stars. This pitiful fact caused tremendous damage on the reputation of "X-ray Inspection Industry", and resulted in irreparable loss of confidence from users.
In order to resolve these issues, renewal of core devices; X-ray generator and X-ray detector is the task of pressing urgency, and we are proud to introduce them to you today.
Feel free to make inquiries.

Please use the inquiry form for questions and inquiries.